Agent 47 bleibt auch in der zweiten Verkaufswoche fokussiert und führt ein weiteres Mal die offiziellen deutschen PS5- und Xbox Series-Charts, ermittelt von GfK Entertainment, an.
Zusätzlich zur top-platzierten Standard-Version holt die Deluxe Edition von "Hitman 3" die Xbox Series-Bronzemedaille. Rang zwei sichert sich hier "Call Of Duty: Black Ops Cold War", während "Sackboy: A Big Adventure" auf PS5 den Vizesieg einstreicht.
In einer ereignisarmen, aber insgesamt wieder etwas stärkeren Verkaufswoche verteidigt "GTA V" die PS4-Krone vor "Assassin's Creed Valhalla". Auf Xbox One hat nun "Call Of Duty: Black Ops Cold War" das Sagen, während der "Landwirtschafts-Simulator 19" im PC-Ranking selbst vom prominenten Rückkehrer "Anno 1800" nicht aufzuhalten ist.
Die Nintendo-Konsolen dominieren "Animal Crossing: New Horizons" und "Super Mario Party" (Switch) beziehungsweise "Pokémon Ultrasonne" und "Luigi's Mansion 2 Selects" (3DS).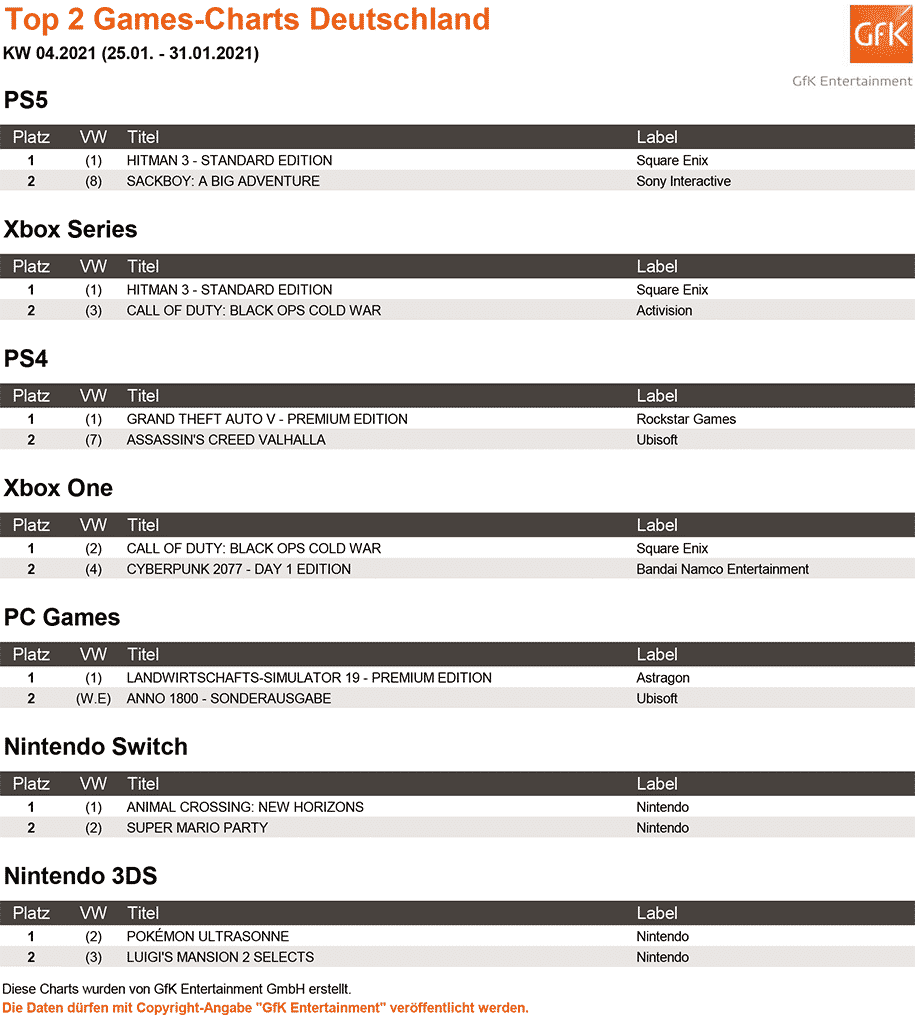 Eine Woche zurück
Games-Charts: "Hitman 3" trifft gleich fünffach mitten ins Ziel