Während die Spieler in The Division 2 versuchen den Aufstand niederzuringen, geht es in Tropico 6 etwas gesitteter zu. Inseldiktator El Presidente hat sein Eiland fest im Griff. Nach einem sehr erfolgreichen Start in die Game-Charts, muss er den Kämpfertruppen aus Division 2 allerdings Platz machen.
Osterbedingt veröffentlichen die Marktforscher von GfK Entertainment bereits heute ihre aktuelle Verkaufsrangliste. Hier holt sich Tom Clancy's The Division 2 gleich den ersten Platz in den PC-Charts, gefolgt von "Die Sims 4" (auf Platz zwei). Tropico rutschte in dieser Woche auf fünf. Auf der Konsole (PS4, Xbox One) stehen Sekiro: Shadows Die Twice und Far Cry New Dawn ganz oben.
Bei den Nintendo 3DS-Spielen macht "Animal Crossing: New Leaf – Welcome Amiibo Selects" (zwei) Platz für "Super Mario 3D Land Selects". Auch die Wii U-Führung wechselt: "The Legend of Zelda: Breath of the Wild" zieht nun vor "Minecraft" die Strippen. Im Switch-Ranking bleibt der Throninhaber "Yoshi's Crafted World" dagegen unangetastet. Dribbelstärkster PS3- und Xbox 360-Titel ist "FIFA 19".
Die Top 2 im Überblick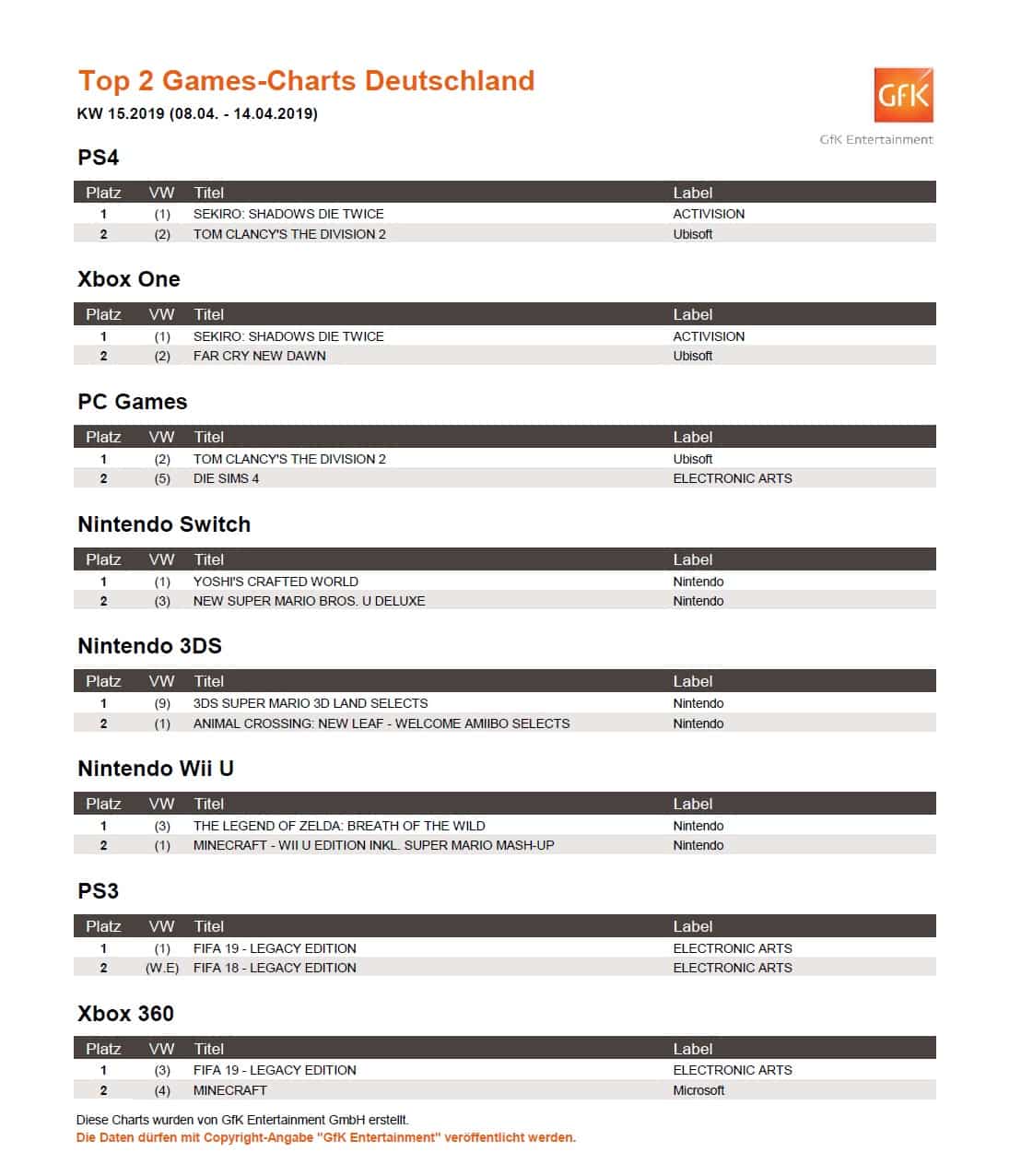 Tom Clancy's The Division 2: Official Launch Trailer
Mehr dazu: